Tour de France 2014 stage 3: Cambridge to London – as it happened
来源:澳门娱乐官方网址 作者:章耪 人气: 发布时间:2019-07-20
摘要:4.23pm BST So Le Tour says au revoir to Britain's roads after three great days of racing. Tomorrow's stage is made for Kittel again and given the form he has shown thus far it's hard to see anyone bea
So Le Tour says au revoir to Britain's roads after three great days of racing. Tomorrow's stage is made for Kittel again and given the form he has shown thus far it's hard to see anyone beating him to the line.
Join me on Tuesday for more of the same and stick around on site now for all the reports and reaction. But, for now, cheerio!
So it's as-you-were at the top of the general classification. And in the race for the green jersey. And the polka dot jersey. And the white jersey.
Kittel looked so comfortable there, and he was delivered to the final straight perfectly by his team-mates. Whisper it, but there was a hint of the 2010/2011-vintage HTC-Highroad leadout train about that.
.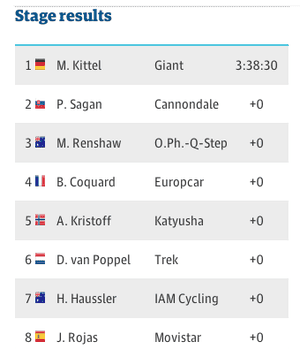 Updated
Marcel Kittel wins stage three
Kittel hits the front and no one looks remotely like getting past the big German. Sagan could only cling on to his slipstream.
Shimano look to pop Kittel out like a cork from a bottle …
1km to go. They swing away from the river.
A heavy crash about 20 riders from the front. Not sure who was involved but it looks like all the big guns are still on their wheels and in the running.
Giant-Shimano look to wrench control from OPQS. All the sprint teams are up there.
A furious pace is being set on the front by Saxo-Tinkoff, then OPQS take the reins. Four kilometres to go. The peloton passes by Blackfriars Bridge, the run up to which is coincidentally one of the worst places in London to ride a bike.
Nom, nom, nom … the peloton munches up Barta. Six kilometres to go.
Seven kilometres to go. Barta is perhaps 70 yards ahead of the field. Contador is second wheel, keeping himself out of trouble.
The peloton ingests Bideau as they power towards Wapping. He was the starter. Barta is next on the menu …
It's a long straight road now between here and Westminster Bridge. Barta burns off Bideau in the tunnel and goes solo.
Nice wide roads here now as we head into the Limehouse Link tunnel. The crowds, needless to say, are huge. Just 25 seconds the gap, with 9.5km to go.
They're really having to dig in to reel this break back – you wonder why they didn't crank up the pace a little less, a little earlier.
Saxo-Tinkoff take their turn on the front as the Millennium Dome hoves into view. The gap comes down to 49 seconds.
It's a winding route now, which is helping the two out front to some extent. The pace at the front of the chasing group – set by Lars Bak – has strung the peloton out.
Jan Barta begins to drop Jean-Marc Bideau, but Bideau grits his teeth and battles back to his partner's wheel. Fourteen kilometres to go, 66 seconds the lead.
Astana are still doing the work on the front at the moment, but Greipel's Lotto-Belisol remain to the fore. They've done a huge amount of work today – now the Gorilla has to pay them back for their efforts.
With 17km to go, Barta and Bideau are still 1min 17sec clear. Chapeau, boys. It's dry here in central London but the rain is pretty heavy out east by the looks of it.
The peloton screams through the Olympic Park. From this point they head down to City Airport, then turn right along the river, skim along the top of the Isle of Dogs, join the river, then turn right again at Westminster before looping round St James's Park and onto the Mall.
Get. Back. You. Berk.
A Lotto-Belisol rider calls for help from the other teams as they labour to bring down this gap. They'll do it, of that there can be no doubt, but this pair are making it as tough as possible – they lead by 1min 41sec still, with just over 20km to go.
The peloton turns left and heads towards the Olympic Park down Orient Way. Orient Way, as it happens, does have a very good cycle lane. Quite sensibly, none of the riders are attempting to use it today, though.
A replay of the Schleck crash – or at least an incident near the crash – shows a spectator taking a photograph a yard or two out into the road. Argh! Team Sky's David Lopez clipped him fairly heavily but stayed on two wheels, but that could've led to a serious pile-up.
The peloton head through Leyton and down Lea Bridge Road – the crowds are five, six deep.
Andy Schleck goes down. As does Ted King. Not sure what happened there – both were towards the back of the field. Having ridden along this very same road a few times, I'd suggest it may well have been a pothole. Or a bus.
The gap is back up to 2min 10sec as Barta and Bideau make a last-ditch attempt to maintain their advantage. They're heading towards Walthamstow now.
It's beginning to sound like the caravan's purveyors of tat plastique have simply been targeting pubs over the past couple of days:
Updated
Inside 35km to go now and the gap is down to 1min 44sec for Barta and Bideau. I'm surprised our ballooning pioneers/Luxembourgeois Eurovision entrants have been able to stay away for so long. Expect them to be comfortably reeled in by the 15km mark.
Good sign work on the roads of Essex …
The peloton is now inside the M25. As such it is now crawling along at 5mph and being stopped by a succession of traffic lights.
The Tour Caravan – the plot thickens. "I saw someone (an adult) excitedly pick up a small box of Yorkshire Tea and another fellow get hit in the face by a flying pack of Haribo," writes Will W.
And:
Was one solitary pub – the White Lion Inn in Cray perhaps – the one target for le Tour's tat plastique?
Bryan Coquard of Europcar thunders past Peter Sagan and takes the points for third. The Frenchman, for now, extends his lead in second, though Sagan is pretty safe in green.
Updated
Bideau pops out from behind Barta and nabs the points and, perhaps more importantly as far as he's concerned, the €1,500 for first place in the intermediate sprint. Ninety seconds back down the road, Cannondale are all over the front of the peloton. Europcar are flying on the outside, though …
A few spits and spots of rain are appearing on the camera lens, which is a touch concerning with 1km to go until the sprint point. The peloton shuffles and organises …
50km to go. The peloton heads into Epping. The crowds are three or four deep on the pavements … and they're keeping out well out of the way in the main which is good to see.
Tour de France caravan – the backlash continues. "My niece was similarly non-plussed about the caravan," writes Liam Blizard. "Despite dialling the I'm-a-cute-kid-so-please-give-me-some-useless-shite factor up to 11, the caravan whizzed passed and she was left with only a miniature bag of Haribo to show for it.
"She thought about it for a few minutes and announced with typical Yorkshire contrariness, oblivious to the scenes of jubilation around her, that 'It was the worst Tour De France she'd ever been to.' She's six, and this is her second. (To be fair in Picardy a couple of years ago, she could barely pick her rucksack up with the amount of swag she had accrued)."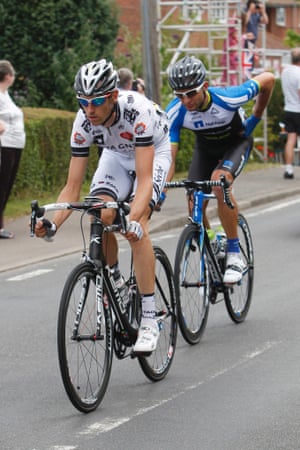 Updated
It's about an hour before the riders arrive at the finish in London. When the tat plastique-less caravan came through 20 minutes or so ago this was the scene:
On commentary Phil Liggett reckons the crowd in London could well exceed that for the road races in the 2012 Olympics.
"On t'Moss we got slim pickings from this 'caravane'," notes John Sanderson in response to Robert Hammond's empty-handed email. "Pretty poor show. I got a foam pig keyring. Nothing says Le Tour more than a foam pig keyring, non? Non. Tres poor. Even the Yorkshire tea van had nowt." Looks like we've all been hoodwinked.
"Due to a monumental error, I committed to cycling the 980 miles/1360 kilometres from that there London to Monte Carlo in eight days last month, including Mont Ventoux and a lot of other painful places," writes Paul Griffin. "It was for two charities which are based near today's stage route, Haven House, a children's hospice working in Woodford, and The Soup Kitchen, a charity which helps feed the homeless on the streets of London, based in Tottenham Court Road.
"Both charities are small enough that donations will make a big difference to people's lives – I would be massively grateful if you could give it a mention."
Consider it done, Paul. Fine effort. .
There's around 15km to go to the sprint point in Epping Forest, and with the gap still at 2min 15sec it looks like the lead two will hoover up the bigger points.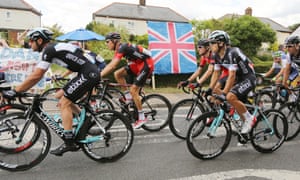 Updated
An email: "Sheffield yesterday was fantastic - the crowds on Cote de Jenkin Rd phenominally loud and friendly - the cycling exciting," begins Robert Hammond with the air of a man about to say 'but'. "But, still I feel let down. The much vaunted plastic trinket/food-athon that I have been led to believe is 'le caravan' was … well … it just didn't happen. I blame Ned Boulting for me erroneously thinking I'd be carrying armloads of plastic tat - at least some semi-edible - away from Le Tour only to recycle once I got home . But no, nothing, rien de tat plastique. No half-hearted scuffles between impatient kids. No humuilating grovelling by adults for a cracked Caisse d'épargne key ring. Had they run out? Given it all out on that Moss place? I demand to know!"
Giant Shimano's Ji Cheng sets the pace on the front, with a smattering of FDJ, Astana and Lotto-Belisol all in close attendance.
70km to go. A man in a bowler hat rides a horse alongside the peloton. Obviously.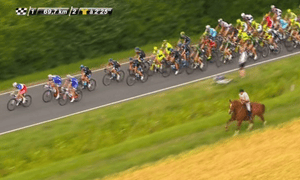 Bideau grabs a couple of bottles from his team car. The lead is down to 2min 27sec.
Anyone for some awkward sprinter banter?
The lead pair head through a feed zone – Barta picks up an energy bar or two, Bideau opts not to partake.
The leaders have reached Chelmsford, at which point they make a sharp right-hand turn and head along the A1060 towards London.
80km to go for Barta and Bideau. Jan Barta, a two-time Czech time-trial champion, leads the way.
The lead for our ambient house pioneers Barta and Bideau is now down to under three minutes. Once we get to Epping Forest there's a sprint point – it's in around 37km time, so the sprinters' teams might well be looking to bring the group back together before then.
We have a Guardian Witness Tour de France assignment currently running on the site. .
The red shirts of Andre Greipel's Lotto Bellisol ease their way to the front of the peloton and take their turn in dictating the pace.
Under 100km to go now as the peloton tears through Rayne, the 2006 Essex Village of the Year (according to Wikipedia). They've stepped on the gas just a touch now, bringing mid-80s Montepellier strike pairing Barta and Bideau's lead down to just over three minutes.
One thing that has been entertaining me today has been this tweet from Bertie Contador's Tinkoff Saxo team. They've been at pains to point out that they've got a brand new livery this year. What they don't mention is that these saddlebags make you look a little like a baboon who has swallowed a job lot of Stabilo Boss highlighters:
A fall at the rear of the field. Omega Pharma-Quick Step's Jan Bakelants hits the deck and he's brought Bretagne's Florian Vachon down with him. It was a touch of wheels, quite a gentle fall in the grand scheme of things (if any falls can be gentle when cycling at 40kph with your feet stuck in the cleats). They're both up and peddling their way back to the pack.
Nibali's Astana team have been doing much of the work on the front of the peloton, as is the custom for the team-mates of the maillot jaune. But Marcel Kittel's Giant-Shimano team are taking a turn now.
Our leaders have 4min 20sec on the peloton with 108km to go until the finish line outside Buckingham Palace.
Competition time!
Thanks to Evans Cycles we're giving you the chance to win a new HOY Sa Calobra .001 2014 Road Bike, worth £750.
HOY bikes are developed by six-times Olympic gold medalist Sir Chris Hoy and the Sa Calobra is fittingly named after the infamous climb in Mallorca – where Sir Chris regularly trained with the GB Team.